5 Best Fantasy Football Playoff players
In a season filled with injuries, inconsistency and players incredibly frustrating to own (I'm looking at you Brandon Lloyd), getting to the fantasy football playoffs this year was no easy task; but if you've made it this far, congratulations!
Thankfully, all four of my fantasy football teams far outperformed the Philadelphia Eagles — who have now regressed to the depths of the Ray Rhodes era — and are all on the way to the postseason. If not for the successes of my fantasy teams, this would probably rank as the most depressing football season I've ever suffered through.
Speaking of the Eagles, this season has been downright miserable; and to make matters worse, next year's draft class doesn't project to have any game-changing stars — like RG3 or Andrew Luck — that are desperately needed in Philadelphia. It's not that the Eagles are completely void of talent like the pathetic Arizona Cardinals, but if all that high priced talent on the roster doesn't want to block, tackle, catch or cover, it doesn't matter.
For as bad as they've been, the Eagles have been great for fantasy owners … of players on the opposing team. I've never seen  an NFL team blow as many coverages as the Eagles secondary have this season, and I'm hoping that trend continues at least next week as the Eagles visit Vincent Jackson and the Tampa Bay Buccaneers (Fan ruling: If your team is as far out of the playoff race as the Eagles are this season, it's acceptable to root for your fantasy players to have big games against them during playoff weeks).
Matchups, while important all season, are even more critical in the fantasy football playoffs so if you have players with the Eagles on their schedule in the next few weeks — get them active.
Obviously no one that made the playoffs is going to bench Aaron Rodgers, Drew Brees, Arian Foster, Adrian Peterson or any other must-start stud, so I won't list them — but here are five players with great match-ups over the next three weeks that could carry your team to fantasy football immortality: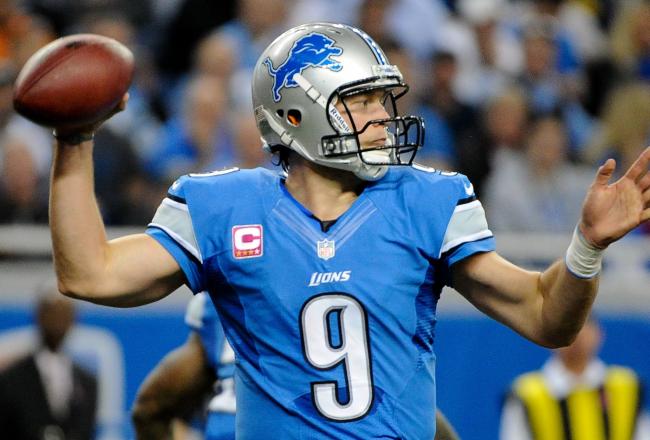 Matthew Stafford, QB, Detroit Lions — Matthew Stafford has been maddening to own so far this season but he regularly throws the ball 50 times and has the luxury of throwing to Megatron — who is effectively killing all arguments of the "Madden Curse" by putting together one of the best statistical seasons for a wide receiver in league history.  Stafford quarterbacked my teams to two league titles last season and with the Packers, Cardinals and Falcons on the fantasy playoff schedule, I'm confidently starting Stafford for the rest of the season.
Robert Griffin III, QB, Washington Redskins — While I still believe that Andrew Luck will have a better NFL career, RG3 has been special this season. He's scored 4 touchdowns in each of the past two games (post written before Monday night Giants game) and with the Ravens, Browns and Eagles left — RG3 should continue to put up gaudy numbers.
Jamaal Charles, RB, Kansas City Chiefs —  Even though he has only four touchdowns on the season and the Chiefs occasionally forget to involve him in the offense (See: Week 6 through 9), Charles is among the best running backs in the league. Other than maybe Browns RB Trent Richardson, no running back has a more favorable schedule over the next three weeks than Jamaal Charles — facing the Browns, Raiders and Colts.
Doug Martin, RB, Tampa Bay Buccaneers — While I hesitate to trust rookies this late into the season, I wouldn't even consider moving Doug Martin to the bench. He's been in a little bit of a lull in the last couple weeks, but nothing that the Eagles, Saints and Rams run defenses can't cure.
Dez Bryant, WR, Dallas Cowboys — With a history of injuries and off-field incidents, Dez Bryant fell to the middle rounds in most fantasy drafts this season. After an inconsistent first half of the season, Bryant has been dominant as of late — scoring six touchdowns over the past four games.
Good luck to all of you that made the playoffs, and to the rest of you that didn't, there's always next year.